Pumpkins serve a variety of purposes. Some are edible varieties and others are used as décor items. They can be placed in gardens, windows, or home interiors. The Halloween festival is synonymous with pumpkins, the fruits are decorated in various shapes during the occasion. The Jack-o-Lantern varieties of pumpkins are popular as decorative pieces during Halloween.
Pumpkins are grouped into 2 classifications, namely, the edible and decorative ones. The fruits are available in both these categories in varied sizes and colors. Some classes of pumpkins are suitable for cooking and decoration uses.
Refer to the following details to learn more about the diverse pumpkin kinds.
Aladdin: Available in the range of 8-15 pounds, these Jack-O-Lantern pumpkins are useful for adorning the interiors of your home during Halloween.
Amish Pie: You can bake these pumpkins for satiating the appetite when hungry. Cook the fruits in the oven for preparing a meal. These baked goodies can also be served to your guests when they come over.
Baby Bear: These small-sized and flat-shaped pumpkins weigh around 2-5 pounds. You can remove the seeds from these varieties and roast the pumpkin seeds for a delectable snack.
Baby Pam Sugar Pie: If you wish to bake pies using pumpkins as an ingredient, these pumpkins are a good choice. The flesh of these pumpkins is sweet-tasting; also, they impart firmness to the baked pies.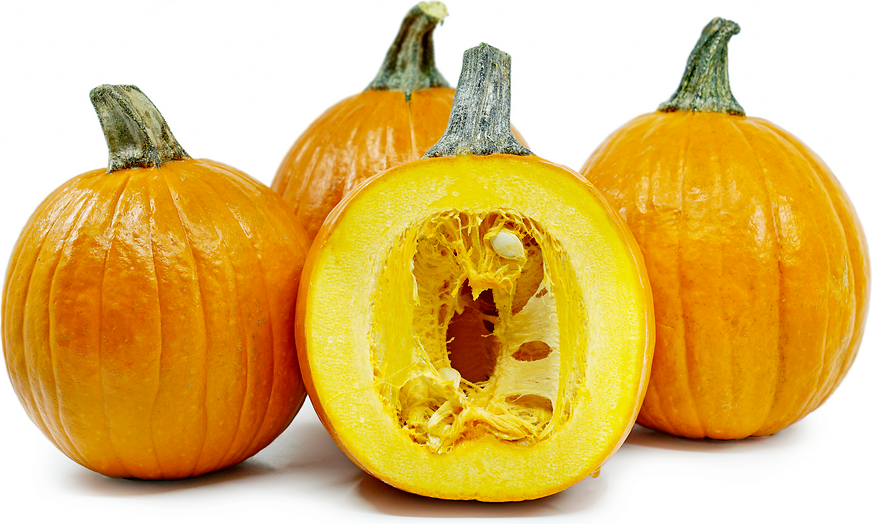 Big Max: These large-sized pumpkins are also suitable for baking and preparing an array of delicious meals.
Charishma: A member of the Jack-o-Lantern class of pumpkins, Charishmas are available in the range of 8-15 pounds.
Cinderella: Representational with the Cinderella story, these pumpkins are ideal for cooking and adorning homes.
Cotton Candy: Cotton candies are white in color and they are carve-able into different shapes.
Cushaw Green and Gold: Available in shapes of bowling pins, these pumpkins are cream in color bearing gold or green stripes. The flesh is golden in color and mixed in dishes during cooking for increasing their flavor. They also serve as a substitute for mashed potatoes and can be mixed in butter for preparing a delicious meal.
Fairytale: You can bake pies with these mahogany-colored, ribbed, and finely-grained pumpkins.
Full Moon: If you are looking for jumbo and white-colored pumpkins for carving or decorating purposes, the full moon varieties are a good choice.
Halloween in Paris: Originating from France, these yellow-colored pumpkins are added in dishes in their pureed form for enhancing the flavor quotient of dishes.
Lumina: Lumina serve culinary and carving purposes. Their exterior is white and the interior is orange in color. Keep them under sunlight for retaining their whitish shade.
Marina Di Chioggia: Greenish blue is the flesh of these pumpkin varieties and they have a sweet flavor. They are mixed in baked dishes because of their rich flavor.
Conclusion
We have listed some pumpkin varieties. You should choose these fruits according to your requirements including culinary usage or decoration uses. The Halloween festival is just round the corner so we suggest you use these fruits for baking goodies. Moreover, your home can be lit-up with these colorful and attractive fruits.